Jewellery Care
Beautiful jewellery is usually valuable in both sentimental and monetary terms. It must be looked after appropriately.
Diamond Care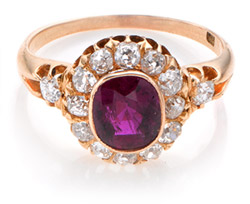 Diamonds may be the hardest natural substance known to man but they are not indestructible, so special care is needed to avoid damage and keep them looking their best.
The first important step is to make sure you have a secure and protective setting on the ring that doesn't leave the stone vulnerable to knocks, even though only a very hard blow will chip your diamond.
Secondly be aware that day-to-day wear will eventually lead to smudging and a dulling of the surface. Cleaning diamonds on a regular basis will keep them looking their glittering best. This can be done at home with a solution of one part ammonia and six parts water. Gently scrub the stone with a soft bristle brush (an old tooth brush will do) to remove traces of dirt and household chemicals but be careful not to scratch the metal.
To be absolutely safe, it is worth taking rings to your jeweller at least once a year for a full check to assess any wear and tear to the setting.
Finally, when not being worn, jewels should be stored separately to avoid being dulled or scratched by each other.
General Care
Below are some general guidelines on the best ways to protect your jewellery:
Always try to protect your jewellery from sharp blows, scratches, chemicals, sunlight and extremes of temperature.
When not being worn keep your jewels separate from each other in a special lined box or pouch.
Avoid swimming in chlorinated pools whilst wearing your jewellery
Keep a supply of jewellery cleaning products at home and use them often.
Take your very best pieces to a professional jeweller for regular cleaning and checking for damage.
Gold is a very soft metal and is especially susceptible to scratches and dents, so treat it with care.
Sterling silver can easily be cleaned with a soft cotton cloth or a silver dip solution.
Storing your silver in a sealable plastic bag will reduce tarnish.
Jewellery with stones should be soaked in warm soapy water and then cleaned with a soft brush.